In an ideal situation, you will receive the proper notice to vacate from your tenant. When this occurs, your Turn Over Process in triggered to begin. In this article, I outline a sample Turn Over process you can emulate, edit and use for your rental property management.
---
How to Turn Over a Rental Property FAST
---
---
Two Primary Processes
During the turn over, there are 2 primary work functions happening simultaneously. First is the administrative function, including the Move Out/Move In inspections, setting market rent, advertising the unit, scheduling & conducting property showings, the application process, and finally deposit return. And documenting all of the above.
Second, there is the physical turn over of the unit or property. This should include your standard preventative maintenance procedures and any minor / major repairs, renovations, or improvements you'll make during turn over. Big ticket items include paint and flooring: Will you shampoo or replace carpets? Will you touch up or completely repaint (Don't forget to check the ceiling)? Finally, a turn over is a convenient time to make minor or major rental property upgrades such as installing laminate flooring, new vanities, cabinets, and counters, appliances, electrical fixtures, doors, windows, ceiling fan, tub, shower enclosure, and plumbing fixtures. Is now the time?
Below, I've outlined how we conduct these 2 functions efficiently, to minimize vacancy time, make necessary or desire upgrades to justify market rent, and create clear and fair expectations to both outgoing and incoming residents.
Notice to Vacate
You will likely receive notice to vacate in a variety of formats throughout your landlording career. You may receive written notice, an email, a phone call, a text message, or a resident may just tell you in person. They may tell one of your employees or vendors and feel they've provided proper notice to vacate. Regardless of how you receive notice, respond to your residents in the same,
documented manner.
Our team utilizes the property management software, Buildium, but an email or written letter will suffice. The point is to have the acknowledgement documented.
Our template reads:
"Hi <Resident Name(s)>, Thank you for providing proper notice to vacate. We have you scheduled to vacate no later than 5pm on <MOVE OUT DATE> and will plan to conduct your move out inspection at that time. Your presence is welcome, but not required. At this time, we will need all keys and garage door openers returned.
I've scheduled a Pre-Move Out Inspection for <PRE-MOVE DATE & TIME>, I will be walking the unit to plan turn over work and schedule vendors appropriately. Again,Your presence is welcome, but not required.
The only remaining item I will need from you is your forwarding address and to whom you would like the security deposit refund check sent. Thank you again for providing proper notice to vacate."
Pre-Move Inspection
The Pre-Move Inspection is KEY to efficiently turning over your rental property. Always schedule your Pre-Move Inspection 10-14 days before scheduled move out date. This will allow ample lead time to schedule vendors, order & pick up materials.
During your Pre-Move Inspection, check the physical condition of the property and make your turn over plans. Your goal is to plan the work, so when its "go time" you and your time can quickly and efficiently turn the unit with little down time (or last minute runs to the hardware store).
You should know the lead times your vendors will need to plan accordingly (if you don't, find out!) You'll need to schedule for major work orders at this point, namely: Windows, sliding glass door, appliances, flooring, paint, kitchen and/or bathroom upgrades. You or your main handyman can handle the smaller items including doors, closet doors, electrical & plumbing fixtures, while handling your standard preventative maintenance.
While you are in the unit, measure windows for blinds, double check oven type to make sure you get the right drip pans, check light bulbs including appliance bulbs, smoke detector & CO2 detector, and earthquake straps on the water heater.
PRO TIP: Taking pictures during the Pre-Move Inspection can help you remember specific needs.
Scope of Work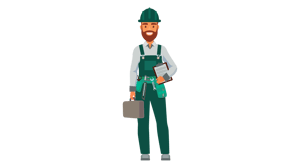 After your Pre-Move Inspection, you should have a good idea of your turn over project scope of work and
the necessary timelines. Determine who will handle each task or hire a General Contractor to coordinate all of this. The timeline needs to be flexible enough to adapt to the needs of each vendor, keep this in mind & schedule your handyman between subcontractors.

Day 1: Handyman- Demo and Preventative Maintenance Checklist
Day 2: Paint
Day 3: Handyman- Install new kitchen sink and faucet, install new blinds throughout
Day 4-5: Demo and new laminate install in living, dining, kitchen & hall. New Carpet in bedrooms. Leave bath floor as is.
Day 6-7: Handyman Finishes
Day 8: Final Cleaning
Depending on the size of the property, the scope of work, and who all of these tasks will be assigned, the timeline can be longer or shorter.

PRO TIP: Have all necessary materials on site to save time on the job.
In the example above, arrange for the paint, kitchen sink, faucet, and blinds to be delivered before the job starts. Most vendors will greatly appreciate if materials are already there, this makes their job easier too. You can deliver them or let them know where they can store materials before the job starts.
Market Rent & Advertising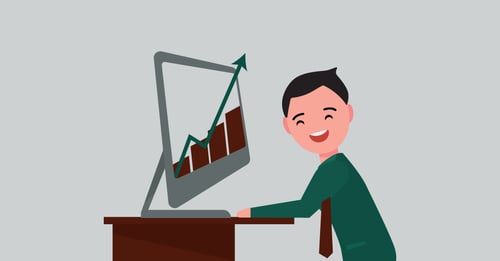 Now that you have a plan, your vendors are scheduled and materials prepared, you should have an accurate estimate of when your property will be ready for move in. Using the example above, the property should be ready 9 days after the current residents vacate.
Run your rental market analysis and set your asking rent amount. I recommend starting to advertise the unit as soon as you know your turn timeline, this will allow you to have as much exposure as possible.
You will have more response once new pictures are up, but at the time of this writing, the rental market is aggressive enough to "pre-rent" the unit before the work is done.
Schedule showings in the evenings, after the workers have left for the evening, but ALWAYS state the unit is "under construction" and you'd prefer to wait until the work is finished. The most motivated potential renters will insist, stating they understand and want to see the unit anyway.
Show the unit and offer your rental terms; Explain your rental application process and rent the property, you'll be surprised how often you are able to schedule a move in date for the 9th day or very close to it.
Conclusion
Planning in advance is critical in minimizing your vacancy and turnover time. The organization, thoughtfulness and thoroughness of your turn over process results in a better relationship with your vendors, attracts higher quality residents and creates less drama for you, the professional landlord.
---
---
---