Real estate investors see real estate differently than the average real estate buyer. Investors identify potential, see opportunities to add value and base all decisions off actual data.
How to Identify a Real Estate Deal
Deal Potential and Value Add Opportunities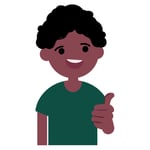 Identifying potential is seeing through what is there and identifying what could be there. When you are looking a deal, what opportunities are available to increase value, immediately or over the long term? Sometimes the opportunity to add value is obvious through major renovations; Sometimes the opportunity is less obvious, what if you added a DADU for a second stream of income? What if you converted a 4 bedroom house into a 2 unit duplex?
Potential is also available in specific areas or neighborhoods that are ripe for growth, immediately or over the long term. What is the zoning of the lot? What changes will occur in the area in the next 5-15 years? You identify real estate deal potential through observing growth trends, but you also make it your business to know urban growth plans, zoning changes, and city plans to build schools, commercial centers, parks, and major roads.
Numbers Driven
Rationality wins over emotions when it comes to a real estate deal. Your purchase decisions are based on facts, data, and numbers. Your acquisition strategy dictates what facts and data are most relevant today and the immediate future, but the most common are:
Recent sold comparables - What price / sqft did similar properties within a mile or less sell for in the past 6 months?

Market Rent - What are similar properties currently renting for? How much has the market rent fluctuated in the past 12 months?

Growth Projections - What are the growth projections for the area? What economic forces are in play?

Construction Costs - How much will your planned renovations or improvements cost? How do you know?
Finally, how long will it take to realize the return you are seeking? Generally, the longer you hold real estate, the better your return. Are you patient enough to reap the long term rewards of your investment?
---
Read More - 90 Days to Your 1st Rental Property
---
Equity Growth Trifecta
My friend Davey Wilde came up with this term, which I love. He calls it the 'Equity Growth Trifecta' You will acquire the best real estate deal when your deal meets 1 or more of the 3 criteria: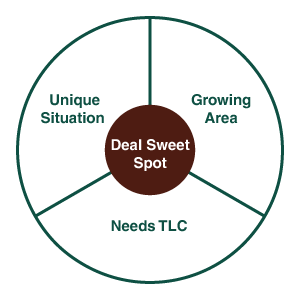 Unique Situation - You are purchasing the property from a seller dealing with a personal issue that would encourage them to sell at a discount. Common issues are tired landlords, going through a divorce, a probate sale (meaning they've inherited the house), a recent job transfer, major deferred maintenance, a short sale, or an REO sale. Any of the issues above would inspire and/or require a seller to discount their property. If you can offer the flexibility in terms the seller may require, such as a delayed closing or a lease back situation, you have even more negotiating power to secure the deal.

Needs TLC - An outdated or better yet, majorly ignored, property provides an obvious opportunity for value add. A property that needs new roof, windows, siding, flooring, paint, kitchen, bathrooms, and finish work will only be available to buyers looking for that kind of opportunity.

Growing Area - When buying real estate, you can change about 80% of the material facts about the property. There a few things you cannot change, such as the position of the house on the lot, the size of the lot, the school district, and the Location. As I mentioned before, know the neighborhood trends and city plans for growth gives; This insight gives you confidence to purchase property today you are fairly certain will appreciate faster than other properties due to its vicinity to future growth.
When a deal comes across your desk that meets all 3, that is, a property in major disrepair in a growing area with a seller dealing with a unique situation, do not hesitate. Make an offer ASAP!
---
---